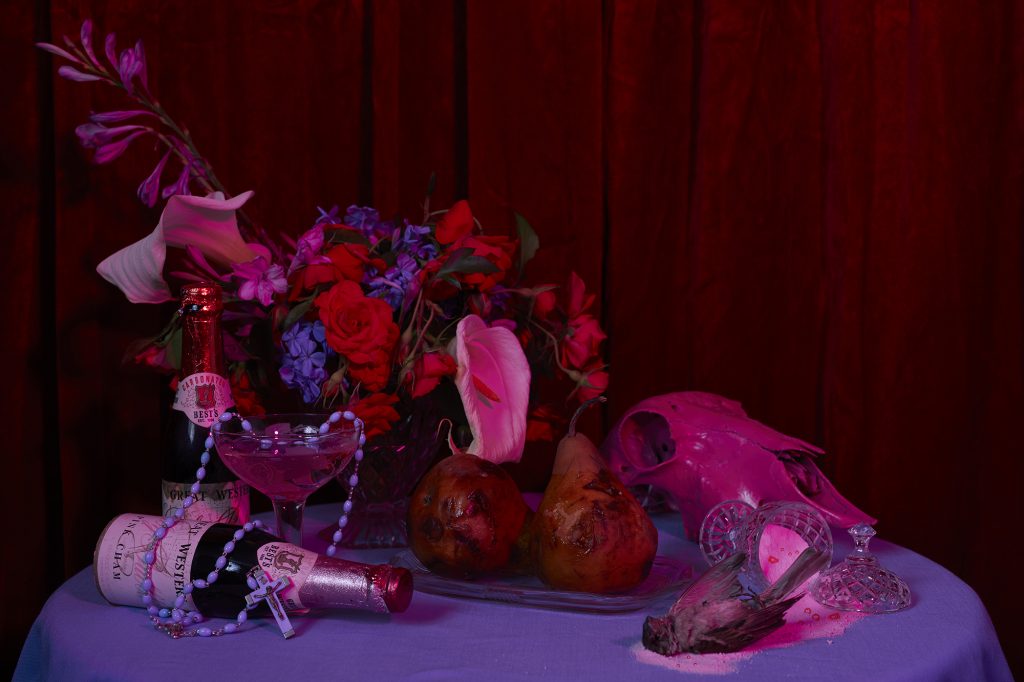 Artist
Expanded photography
Constructed narratives and a Tableau Vivant
Neuroqueer
Gender Non-compliant 
Angelique Joy
Creating within the field of expanded photography, Angelique's artistic practice has sought to interrogate and question how 'self' is constructed. Xyr work explores identity development and aims to dissect societal frameworks and the cultural parameters that impact how we each create our 'self'. Xyr work unconsciously attempts to disrupt neuronormative ways of being and arbitrary social constructs that condition each of us into some level of social compliance.
Angelique's intrigue into spaces: the spaces we inhabit; the spaces we claim; and the spaces we are kept from, began with early studies in interior design. This exploration of physical spaces upon human behaviour and interactions feature heavily in xyr work. Angelique is concerned with how spaces- physical and virtual, imaged and real- intersect with identity. As someone who is Neurodivergent, being both sensory seeking and sensory avoidant, external space and the details it contains have a huge impact on xyr internal sense of being.
Constantly oscillating between: the internal and external; what is real and what is surreal; and what is inherent and what is constructed, Angelique uses the contrast between: analogue and digital; moving and still; and between the light and the dark, to express a sense of tension in xyr work, a tension that holds these polarities.  
A Bachelor of Visual Arts – Photography, at Uni SA, combined with studies into fashion design and construction, led xyr to research gender performativity, gender expression through dress and research gender archetypes within the boundaries of contemporary culture.
In 2018, Angelique completed a Bachelor of Art and design – Honours, at UNI SA. Xyr final body of work expressed the power of dress on identity formation, and how systems of fashion impact gender expression.
Angelique is currently studying a Masters of Photography at RMIT.